First 5G safety innovation workshop was a great success.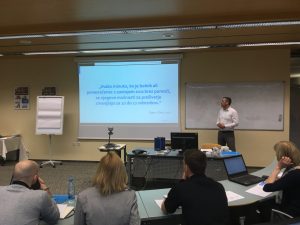 First PPDR innovation workshop as part of 5G Safety project was held in Iskratel training center on Thursday, 7 March 2019. Great variety of PPDR stakeholders attended, beside project consortium partners (Iskratel, Telekom Slovenije, University of Ljubljana Faculty of Electrical Engineering and OSI) also others, namely call center (PSAP) representatives, first responders, paramedics, fire brigade, mountain rescue, Slovenian automobile association (AMZS), Slovenian highway administration (DARS) and officials from national PPDR administration.
Eight different PPDR use cases using advanced technologies were presented, then participant took focus on five most challenging in a separate group work. Use case owners then collected feedbacks with aim to integrate learnings in further solution development activities.
Event was a great opportunity to synchronize partial project results with potential technology users and it is a prime example of successful collaboration of public, business and academic sector. New similar activities and events will follow in order to seek for best public interest and economic value.